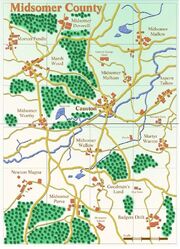 "What? That makes no sense; Upper Warden is down the hill and Lower Warden is up the hill!"
"Troy, this is Midsomer..."
An exchange between Troy and Barnaby. (A Tale of Two Hamlets)
Midsomer is an English county which consists of numerous chocolate box villages. The county town is Causton and it also happens to be where the now retired Detective Chief Inspector Tom Barnaby (John Nettles) and his wife Joyce (Jane Wymark) live. The Criminal Investigation Department (CID) is located there and where Tom's cousin, Detective Chief Inspector John Barnaby works along with Detective Sergeant Ben Jones (Jason Hughes). The emblem for Midsomer Constabulary is a badger, as shown in the series. The first village to feature in the pilot episode was Badger's Drift, which was titled The Killings at Badger's Drift, where the first victim was Emily Simpson.
List of fictional villages in Midsomer
Edit
Angels Rise
Aspern Tallow
Badger's Drift
Binwell
Bishopwood
Bleakridge
Bow Clayton
Broughton
Burwood Mantle
Calham Cross
Causton (County town)
Cooper Hill
Devington
Dunstan
Elverton-cum-Latterley
Ferne Basset
Finchmere
Fletcher's Cross
Ford Florey
Goodman's Land
Great Auburn
Great Pelfe
Great Worthy
Haddington
Little Auburn
Little Crosby
Little Malton
Little Upton
Little Worthy
Lower Crosby
Lower Pampling
Lower Warden
Luxton Deeping
Malham Bridge
Malham Cross
March Magna
Marsh Wood
Martyr Warren
Midsomer Abbas
Midsomer Barrow
Midsomer Barton
Midsomer Chettham
Midsomer Cicely
Midsomer Deverell
Midsomer Florey
Midsomer Herne
Midsomer Holm
Midsomer Langley
Midsomer Magna
Midsomer Malham
Midsomer Mallow
Midsomer Market
Midsomer-in-the-Marsh
Midsomer Mere
Midsomer Morchard
Midsomer Morton
Midsomer Mow
Midsomer Newton
Midsomer Oaks
Midsomer Parva
Midsomer Pastures
Midsomer Priors
Midsomer Shallows
Midsomer Sonning
Midsomer St. Claire
Midsomer St. Michael
Midsomer Stanton
Midsomer Vertue
Midsomer Vinae
Midsomer Wellow
Midsomer Worthy
Midsomer Wyvern
Milton's Cross
Monks Barton
Morton Fendle
Morton Shallows
Newton Magna
Pandlefoot Bailey
Shotover & Forest hill
Upper Warden
Whitcombe Mallet
Ad blocker interference detected!
Wikia is a free-to-use site that makes money from advertising. We have a modified experience for viewers using ad blockers

Wikia is not accessible if you've made further modifications. Remove the custom ad blocker rule(s) and the page will load as expected.